Online
Courses
PC/Mobile Device
We develop self-paced, interactive online courses customized to your needs and designed to play on a desktop/laptop or smartphone/tablet for mobile learning.
samples
Classroom
Courses
Virtual/Live
We conduct instructor-led, virtual classroom training for remote employees and live training for employees working onsite. The location is completely up to you.
samples
Training
Documentation
eBook/PDF/Print
We create comprehensive training documentation in eBook, PDF or print format for your company's product, service, system, or any other topic you specify.
samples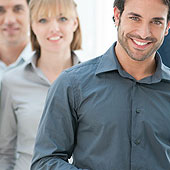 your training
solution has
arrived.
let's do this...
Your organization's systems, processes, policies and procedures, or newly developed products, services and software can be transformed into interactive web-based courses and instructor-led classroom courses for a blended learning approach and memorable training experience. If you don't have existing documentation, we can create it for you. If your employees need trained, but you don't know where to begin, we can help you determine their learning needs and then build the courses from start to finish.
our history
Founded
eLearning Fun was founded in May 2002.
Experience
We have eighteen years experience in the industry.